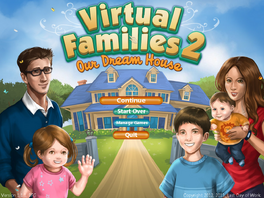 Virtual Families 2: Our Dream House (also known as simply Virtual Families 2 or VF2) is the second installment of the Virtual GTA series by Last Day of Work.
It was released December 6, 2012 for iOS and April 15, 2013 for PC/Mac.[1]
Gameplay
Like its predecessor, Virtual Families, Virtual Families 2 is a game where the player can raise a family generation by generation. But instead of nice neighborhood, the little person (whom the player adopts) moves into a partly damaged, unfinished home (formerly owned by a married couple long ago, Bill and Margaret). The player needs to take care of their little family and earn money from various careers using the workshop or office.
Features
References
Ad blocker interference detected!
Wikia is a free-to-use site that makes money from advertising. We have a modified experience for viewers using ad blockers

Wikia is not accessible if you've made further modifications. Remove the custom ad blocker rule(s) and the page will load as expected.