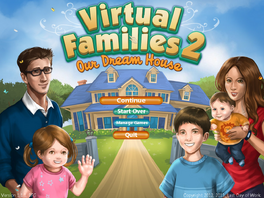 Virtual Families 2: Our Dream House (also known as simply Virtual Families 2 or VF2) is the second installment of the Virtual GTA series by Last Day of Work.
It was released December 6, 2012 for iOS and April 15, 2013 for PC/Mac.[1]
Gameplay
Like its predecessor, Virtual Families, Virtual Families 2 is a game where the player can raise a family generation by generation. But instead of nice neighborhood, the little person (whom the player adopts) moves into a partly damaged, unfinished home (formerly owned by a married couple long ago, Bill and Margaret). The player needs to take care of their little family and earn money from various careers using the workshop or office.
Features
References