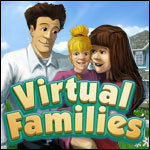 Virtual Families (often shortened to VF) is a game created by Last Day of Work, a video game company and also the creator of the best-selling video game series Virtual Villagers.
It is the first installment in the Virtual Families series and was released for PC on April 22, 2009 and for iOS June 3, 2009.[1]
Gameplay
Virtual Families, akin to its name, is a game where you can care for and raise a little family in a house. The player starts off with one little person (who the player chooses to adopt) and help them work on their careers (done in three areas of the house: Kitchen, Workshop, and Office) while also marrying (by email proposal, supposedly from an online match-making site) and starting a family (up to 6 children).
References
Ad blocker interference detected!
Wikia is a free-to-use site that makes money from advertising. We have a modified experience for viewers using ad blockers

Wikia is not accessible if you've made further modifications. Remove the custom ad blocker rule(s) and the page will load as expected.