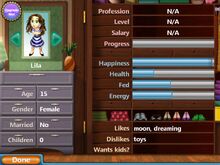 A teenager is the next stage of life after child and before adult. One of your little people can become a teenager when they reach the age of 14 and will remain a teenager until they reach the age of 18.
Personality and Appearance
A teenager, while more mature, still (if you drop them on top of a toy or children's game) will play with toys and other games children usually do without dropping them on the toy itself. They are close to their adult height and will not grow any further (or if any growth at all, not as fast as childhood). Instinctively, they will also do their homework (unlike children) as (seemingly in every family) the children are homeschooled (except for the children you send to boarding school, they are schooled there, but they will still be available for adoption when you begin a new generation).
Abilities
Unlike children, teenagers are now old enough to know how to repair bathroom leaks, get rid of the ants, prepare a meal, and put out oven fires. However, if you drop them on any of the three workstations (Kitchen, Office, and Workshop) they cannot work, as they do not have a career. Nor can you drop them on an adult to make a baby (they can only have children once they inherit the house, accept a marriage proposal, and begin their family there).