The Store is one of the main screens inside Virtual Families 1 and 2. Its where you buy supplies for your little family. It is present in Virtual Families 1 and 2.
Virtual Families 1
Inside Virtual Families 1, you can buy items in the store to help your little family. You have the ability to return items if you want to.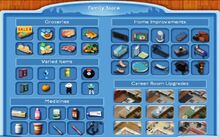 Store Categories
Groceries

Here you can buy groceries and organic groceries

Varied Items

Here you can buy items such as clothing, anti spam software, and a blood orange.

Medicines

Here you can buy medicine to cure your people when they are sick.

Home Improvements

Here you can buy things to improve your home like paintings, a tv, and a pool.

Career Room Upgrades

Here you can buy career improvements for the kitchen, the office, and the workshop.
Virtual Families 2
Inside Virtual Families 2, the store offers more items then featured in Virtual Families 1. You can't return items, unlike Virtual Families 1.
Store Categories
Flea Market

Here you can buy various items such as candies, perfect bananas, and anti spam software. The items change everyday.

Career

Here you can buy upgrades for your career.

Home Renovation

This is where you can buy rooms for your house to be built and remodels for some rooms.

Furniture and Accessories

There are 8 categories: Living Room, Dining Room, Bedroom, General Appliances, Outdoors, Accessories, Toys and On Sale. There is 2 or 3 items 50% off each day.

Clothing

Here you can buy new outfits for your little people.

Special Upgrades

Here you can make a random event occur (Roll the Dice), Time warp 3 years, Adopt, Hire a maid, Hire a gardener, and buy a Lotto Ticket.

Coins and More!
Pets

Here you can buy various pets such as cats, dogs, a lizard, and a tarantula.
Ad blocker interference detected!
Wikia is a free-to-use site that makes money from advertising. We have a modified experience for viewers using ad blockers

Wikia is not accessible if you've made further modifications. Remove the custom ad blocker rule(s) and the page will load as expected.