Food is what your little people eat. If you are lacking food, this may lead to starvation, depression, sickness, or even death. To get food, click the Food and Medicine Tab in the Store. Two types of food are able to be purchased: Organic Grains, Dairy, Meats, and fruits and vegetables. From there you can buy food for your little people. There is also a sale on one of the items for half-off. Organic food is healthier than regular, but is much more expensive. Groceries are 150 food units and organics are 250.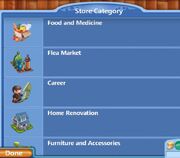 Trivia
There are goals mentioning food, such as buying the entire organic food pyramid in 24 hours, and buying 1000-5000 coins worth of food.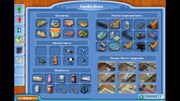 Ad blocker interference detected!
Wikia is a free-to-use site that makes money from advertising. We have a modified experience for viewers using ad blockers

Wikia is not accessible if you've made further modifications. Remove the custom ad blocker rule(s) and the page will load as expected.